Nov 29, 2021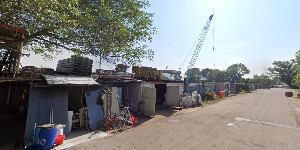 The 8,814 sq m Jalan Papan site has been awarded to Trans-Euro for $5.6 million. Source: Google Maps
The tender for the industrial site located at Jalan Papan (Plot 7) has been awarded to Trans-Euro, at a tendered sum of $5.6 million, revealed JTC on 26 November.
With an area of 8,814 sq m, the 20-year leasehold site is zoned for Business 2 use, with a gross plot ratio of 1.4.
The tender for the site was launched on 31 August and closed on 26 October, with three bids received.
The Business Times (BT) reported that this is the second time that the site has been put up for tender. The previous tender was launched on 29 December 2020 and closed on 23 February 2021, with two bids received.
However, no award was made since the highest bid received was below the reserve price.
Looking for a property in Singapore? Visit PropertyGuru's Listings, Project Reviews and Guides.
Cheryl Chiew, Digital Content Specialist at PropertyGuru, edited this story. To contact her about this story, email: cheryl@propertyguru.com.sg.