May 28, 2020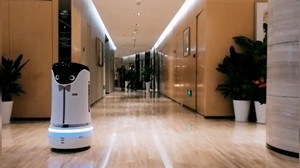 The move is aimed at redefining the guest experience to take advantage of emerging trends like work-from-home, deeper health and safety concerns as well as a rapidly digitising world. Photo: The Ascott
The Ascott, CapitaLand's fully owned lodging business unit, is set to review the design of its lodging products and services to ensure that make them future-ready for continued growth in a post-Covid-19 landscape.
The move is aimed at redefining the guest experience to take advantage of emerging trends like work-from-home, deeper health and safety concerns as well as a rapidly digitising world.
"Ascott is reviewing every touchpoint within the living and workspaces of our apartments to tap on the work-from-home trend. We are also improving our digital solutions and looking at leveraging smarter technologies to provide value and safety to our guests," said Kevin Goh, Chief Executive Officer, Lodging, CapitaLand Group and Chief Executive Officer, The Ascott Limited.
To tap on the work-from-home trend, Ascott plans to upgrade its design to provide its services apartments with a more productive workspace. Improvements to the workspace's overall ergonomics include better task lighting, appropriate wall features suited for webcasting or videoconferencing and better use of space.
To provide value, convenience and safety to guests, it also intends to further deploy digital solutions and technologies, such as the use of sensors as well as smarter room energy and water management.
Ascott noted that the use of sensors offer better safety via thermal scanning or to track crowds and footfall to facilitate better safe distancing measures.
It also plans to launch a new mobile app later this year to provide guests contactless services like contactless entry to their apartments, check-in and check-out and payments.
In a bid to continually provide safe homes to its guests and safe working environment to its staff, Ascott will also deliver stringent cleanliness and hygiene standards as well as safe distancing via its newly launched 'Ascott Cares' commitment.
"Ascott has always placed the safety and well-being of our guests and staff as our top priority. 'Ascott Cares' reaffirms our commitment to deliver high standards of cleanliness. Safe distancing in shared spaces and increased santisation will be part of the new normal. A health and hygiene champion will also be appointed in each property to uphold these standards and act as an official liaison with local health authorities to ensure compliance with the latest regulatory health measures. With 'Ascott Cares', our valued guests will have greater peace of mind and full confidence in our commitment to their well-being, said Alfred Ong, Head, Global Operations, The Ascott Limited.