May 2, 2018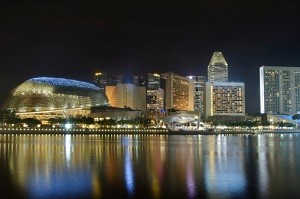 The prospect of the local hotel industry appears rosier with worries over a large room supply diminishing as tourist arrivals and their length of stay continue to increase, according to Colliers International's Hotel Insight Q1 2018 report.
"Hoteliers in Singapore have weathered the lean years – particularly 2015 and 2016 – admirably, and the hospitality sector outlook is decidedly brighter this year as market sentiment turns up," said Govinda Singh, Colliers' executive director of valuation & advisory for Asia.
For instance, Singapore Tourism Board (STB) data shows that tourist arrivals increased to a record high of 17.4 million last year compared to 16.4 million in 2016, while visitor days or tourists' length of stay rose to 57.8 million from 56.7 million previously.
This year, overall tourist arrivals and visitor days are anticipated to hit 18.1 million and 59.2 million respectively, with the former expected to increase by about three percent in 2019.
"Considering STB data, it suggests that Singapore still requires a significant amount of hotel rooms to accommodate its visitors, with growth in visitation being tempered by the low level of room supply especially at the mid-market to lower end," Singh noted.
This is because new hotel room supply is projected to slow dramatically to 628 in 2018 and 1,300 in 2019 compared to about 3,400 in 2017, 2,567 in 2016 and more than 5,500 rooms in 2015.
Moreover, a closer look at room inventory and demand indicates that Singapore hotels are nearly full all the time during peak periods, and particularly from Monday to Thursday as well as Saturday nights.
"Our hotel needs analysis showed that the number of overnight visitors to Singapore has consistently outstripped hotel room stock since 2011, and is projected to remain so over the next few years," noted Singh.
"It suggests that there is a high degree of existing frustrated and latent demand, whereby visitors who wish to come to Singapore either cannot find rooms or have to turn to alternative accommodation providers such as serviced apartments or dare I say Airbnb."
For instance, about 57 percent of Singapore's total overnight visitors in 2011 stayed in a hotel. Based on the number of available rooms back then, this translates to an implied room occupancy of 121 percent.  But STB only posted a room occupancy of 86 percent, suggesting that only around 40.5 percent of those requiring accommodation were able to secure a hotel room. A similar trend was seen in 2017, wherein the 85 percent occupancy level suggested that only 43 percent of the 57 percent requiring rooms were accommodated by hotels.
As such, Colliers thinks that it is an opportune time to reconsider more hospitality projects and investment in the hotel industry given the high amount of 'frustrated demand'.
Furthermore, the average occupancy rate is forecasted to hover at over 84 percent from 83.1 percent in 2016 and 84.7 percent last year, despite the forecasted increase in room supply by 2018 and 2019.
Romesh Navaratnarajah, Senior Editor at PropertyGuru, edited this story. To contact him about this or other stories, email romesh@propertyguru.com.sg
Related Articles:
CMT's gross revenue up 1.8% in Q1